(written June 8th)
This weekend, I'll attempt the Lingshan 30k Mountain trail race. It's part of the Lingshan 100 Ultra trail challenge. If you read Chinese or have Google Chrome set to auto translate, this is all the info about the race. This will be my second trail race while living in China. Lingshan mountain is NW of Beijing, about a 2.5hr drive (with good traffic). I've seen pictures and I understand why it's called the Mount Everest of Beijing. Got some steeps.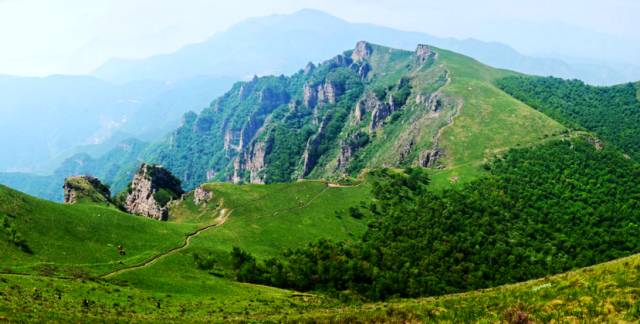 With nearly 6000 feet of climbs, going to be really, really tough but I am looking forward to it.
I found this race through the local running group I run with one or two evenings a month, in nearby Chaoyang Park. This race has 12, 30, 50 and 100km distances. The group has runners in every category minus the 12km. About 10 folks total running. I'm running the 30k with 5 others. We hired a driver and a van and depart at 5:30am Saturday. Going to be a long day.
My concern isn't the distance but the elevation. Steep climbs and worse, steep declines. Going uphill isn't a problem for me. Just take it slow. But going downhill is a problem. How does one avoid the huge strain on the knees or rolling an ankle on a rock? I'm not sure but I'll learn as I go.  The elevation profile is below. The first climb is running up a ski run. Looks nearly straight up. And the finish is even worse. What kind of sadist creates a course to have the final 8km go uphill like that? That part of the race will be a true suffer fest.

Am I ready? Fortunately, my training has gone really well since the Seoul Marathon back in March. A few minor aches and pains around the knee and shin/ankle that only required a day or two of days off.  The body held together as I ramped up the monthly miles:
129 miles in March
158 miles in April
190 miles in May
May was clearly a huge month. Two back to back 50 mile weeks, which I've never done before. And hitting 190 miles, that's the most I've run in one month in nearly two years.
Endurance was the focus although did some speed work. Really wish I had done more treadmill (steep) incline runs in the gym. Not enough hills and especially declines are likely going to haunt me. Ran some stairs but should have done more.
The course will have just 3 or 4 aid stations so I'll need to carry fair amount of fluid and some Gu. Decided to upgrade from my trusty fuel belt. A basic one that holds 1 to 4 10oz bottles. Served me well for nearly 10 years but decided time for a major upgrade. Since I'm running in the mountains, if the weather turns i'll need a rain jacket, extra shirt, hat, etc.  Selected the Salomon Advanced Skin Backpack (12 Set). So glad I splurged:
Holds a ton of gear. 12 Liters of stuff

So many pockets

1.5 liter water bladder
Two 16oz soft water bottles on your chest
very comfortable fit, light and hugely important..
snug fit. No bounce when run.
I run with it about 4-5 times including a 12 mile run so hopefully no surprises with the backpack on race day.
One other very important training note to mention is that I've dramatically increased my use of a foam roller. Should be rolling the calfs, thighs and hips every day but I normally get in 4-5 sessions per week. I know this has really helped prevent sore muscles turning into a problem muscle.
Lastly, race day strategy… mostly, just take it easy and enjoy the day.